EXHIBITOR SPOTLIGHT: RENOVATIONFIND
Jan 5, 2023, 19:41 PM
We're excited to have RenovationFind as a sponsor of the 2023 Edmonton Renovation Show. Before you visit this innovative company at the Edmonton EXPO Centre from January 27-29, please enjoy our brief interview with the RenovationFind team below.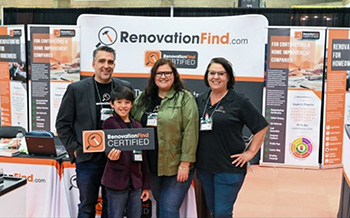 Q. How does your service work?
RenovationFind.com is a free online directory of screened and certified trades, renovation contractors, and home services companies. To become certified, the companies must clear legal and financial background checks. In addition, they provide proof of business licensing, liability insurance, and WCB coverage. Those involved with the Better Business Bureau will receive a higher rating on our website. We also use a third-party organization to monitor the companies to ensure they comply with our high standards.
When you hire a RenovationFind Certified company, you are hiring a company you can trust!
We also offer digital marketing services to businesses in the renovation industry. We utilize several strategies to promote those trustworthy companies and help them connect with homeowners.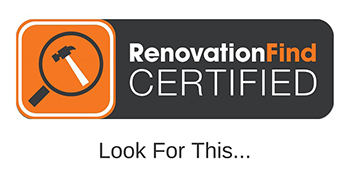 Q. What can we look forward to from you at the Edmonton Renovation Show?
We'll have a booth set up at the show. We invite everyone to say hello and sign up for a RenovationFind Membership. When you do, we'll enter you in our draw for $1,000! Plus, a membership offers discount pricing and exclusive promotions from our select partner companies in Edmonton.
We'll also be running our Post a Project service at the booth. You can post your project online at no cost, and we'll send your details to three relevant contractors in Edmonton. For example, if you are considering expanding your home, we'll send your project details to three of Edmonton's best home addition companies. Once those companies receive your details, they'll contact you directly for more information to start creating an estimate for you.
Q. What advice can you offer homeowners?
Take your time when hiring someone to work on your home. Do lots of research that goes beyond checking online reviews. Ask to see a business license, insurance, and WCB coverage. These credentials protect you and your property if there is damage or injury. Also, check out RenovationFind Certified companies because they've already passed extensive background checks.
Then, start checking references. It's an extra step, but speaking with other homeowners who have worked with the company will give you a better idea of the experience. Ask to speak to their three most recent jobs, and go from there.
It's also essential to get multiple quotes from a few companies. You want to go with a competitive quote and with the company that suits you and your project best.
Q. What inspires your services?
I've worked in the renovation industry for several years in Edmonton. Unfortunately, I've heard countless stories of homeowners having terrible experiences with bad contractors. I've heard of contractors going bankrupt halfway through the job, running off with deposits, and leaving shoddy work or unfinished work. Often this leaves the homeowner with a financial burden and a tonne of stress!
With RenovationFind, homeowners can find honest, experienced, and reputable contractors for their home projects. It reduces stress and helps improve the reputation of the industry. Plus, it allows us to help promote the worthy companies that deserve the work. That is a win-win for everyone.
Q. What is your favourite part of the Edmonton Renovation Show?
I love helping people connect with ethical renovation companies for their home projects. When people come to our booth, they're excited to find this free resource of vetted and verified contractors. And, with our Post a Project service, they can easily get quotes for their project. Removing stress and helping both homeowners and deserving companies by making those connections is very rewarding.
Q. Are there any success stories you can share?
As a data-driven service, we rely on data collected by surveys and other means. Survey results and user feedback show homeowners have had positive experiences with RenovationFind.com and our certified companies. It's working! So, whether they need a home builder, garage door company, HVAC contractor, landscaper or the best flooring companies in Edmonton, they'll find one on RenovationFind.
We've also received positive feedback from the companies we work with. Using a suite of digital marketing services, we've helped them increase their search engine optimization, web traffic, online presence and have generated qualified leads for new business. We also help them position their companies with a brand of trust. That is essential for homeowners.
Q. What can people expect when they work with you?
As a homeowner, you'll have free access to pre-screened and certified companies for your home projects on RenovationFind.com. We have listings in multiple categories, including Edmonton's best attic insulation companies, plumbers, electricians, drywall contractors, siding installers, restoration, companies and many others.
A RenovationFind Membership will give you access to exclusive promotions and discounted pricing with our select partner companies in Edmonton. You can sign up online or at the Edmonton Renovation Show.
If you're a renovation company, you can expect to build a brand of trust among your current and potential customers with RenovationFind Certified. In addition, our digital marketing services can boost web traffic, leads, and new business. So reach out to learn more!